Report Video
Your report will be processed within 2-3 hours.Sometimes within 5-10 minutes for video requests.
☛
You can also control the player by using these shortcuts:
Enter/Space
M
↕
↔
0-9
F
J
L
If you're fan of Anime, check
123anime.cc -
, the best anime site you ever known.
Please follow us to receive news about the server/domain status
Fetching servers...Please wait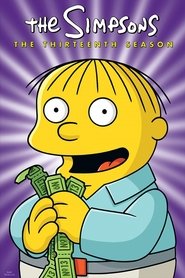 The Simpsons 13
The family goes to the library's used book sale; where Homer obtains a copy of Duff's Book of World Records. When he's gone through all the records, he decides to set one of his own. Duff tells him that all the personal records have been set. He needs to help set a group record. The town tries to set a record for the world's tallest human pyramid; but when they fail, they inadvertently set the record as the world's fattest town, which they celebrate. Only Marge has a problem with this. She goes to the Motherloving Sugar Company to lodge her complaint. The owner Garth Motherloving is less than cooperative, so Marge files a class action lawsuit. Professor Frink blows the whistle on "big sugar" and the court rules in Marge's favor and then bans all sugar from Springfield forever. All the town's sugar products are burned and Apu's store shelves are empty. Apu brings Homer into a group determined to smuggle sugar back into Springfield. Homer and Bart join with Apu, Mr. Burns, Count Fudgula and Garth Mothelovering in a scheme to smuggle in sugar from the island of San Glucose. They make it into Springfield Harbor, but are intercepted by the police. Evading Wiggum and Co., Homer finds himself faced with the decision to either "Dump Cargo" to make Marge happy or "Obey Bad Guy" and bring sugar to Springfield. He chooses the former, but Judge Snyder realizes that he's overstepped his authority and makes sugar legal once again.