Report Video
Your report will be processed within 2-3 hours.Sometimes within 5-10 minutes for video requests.
☛
You can also control the player by using these shortcuts:
Enter/Space
M
↕
↔
0-9
F
J
L
If you're fan of Anime, check
123anime.cc -
, the best anime site you ever known.
Please follow us to receive news about the server/domain status
Fetching servers...Please wait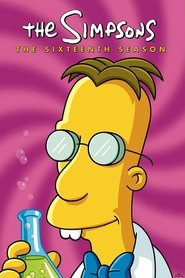 The Simpsons 16
The students of Springfield Elementary are on a field trip to Springfield's Glacier, but when they get there, the glacier is a shadow of its former self, a huge pond with a hardly noticeable block of ice. Lisa (of course) blames global warming. While Lisa is calling for action to save the glacier, her brother is taking every opportunity to torment her. Meanwhile, back in town Homer and Marge have gone to Sprawl Mart to do some shopping. When Grampa (Sprawl Mart's greeter) isn't capable of doing his job, Homer takes over and does such a great job it gets him a full time position with no chance for advancement. Lisa has vengeance on Bart by getting a restraining order against him, he must stay at least 20 feet away from her at all times, or go to jail. Chief Wiggum shows the family a videotape hosted by Gary Busey on how to live with a restraining order. For his part Homer constructs a 20 foot pole that Lisa can use to help keep them apart. It impacts Bart's life at home and school. At family court, after Bart points out some obvious flaws in her character, Judge Harm increases the distance to 200 feet. Having to live at the edge of their property, Bart decides to embrace living the natural way. Homer finds out from his fellow employees how to survive working at Sprawl Mart. And mistakenly feeling that Bart might have changed, Lisa decides to forgive him and burn up the restraining order.