Report Video
Your report will be processed within 2-3 hours.Sometimes within 5-10 minutes for video requests.
☛
You can also control the player by using these shortcuts:
Enter/Space
M
↕
↔
0-9
F
J
L
If you're fan of Anime, check
123anime.cc -
, the best anime site you ever known.
Please follow us to receive news about the server/domain status
Fetching servers...Please wait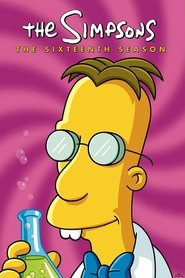 The Simpsons 16
Bart and Lisa find themselves in Prof. Frink's basement and he uses the science of astrology on his new computer to show them their future, eight years from next Tuesday. In this future, Maggie is away on a trip to Alaska; Homer and Marge have separated and Bart and Lisa are getting ready for prom. Lisa's date is Milhouse, who and Bart is dating a skateboard chick named Jenda. Lisa is graduating 2 years early and is going to Yale (now owned by McDonalds) on a scholarship funded by Mr. Burns as punishment for stealing Christmas. Bart is also graduating and is ready to move to the next level of his relationship with Jenda, he wants to marry her but his vision of their future together makes her break it off. Working his part-time job at the Kwik-E-Mart, Bart winds up saving Mr. Burns life while delivering groceries. As a reward Mr. Burns gives him the scholarship that Lisa was to receive. Bart is back with Jenda, now that he has a future, but Bart finds his way back in Prof. Frink's old basement and sees Lisa's bleak future with Milhouse. He does the right thing and keeps her from destroying her life.